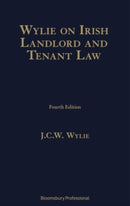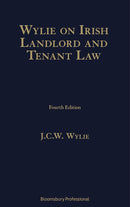 Description
Author: Prof J C W Wylie
Format: Hardback 1248 pages
Publisher: Bloomsbury Publishing PLC
Imprint: Bloomsbury Professional
Edition: 4 ed
ISBN: 9781526522030
Published: 4th July 2022
This fourth edition comprehensively deals with all aspects of landlord and tenant law, both commercial and residential. It provides essential guidance for all practitioners who advise on this area of law. The book covers everything from the basics (such as explaining the nature of the relationship between landlord and tenant) to more complex matters such as when disputes arise, and the controversial subjects of rent reviews and guarantees.
In this new edition the following is covered in detail for the first time: LEGISLATION Residential Tenancies (Amendment) Act 2015 Planning and Development (Housing) and Residential Tenancies Act 2016 Landlord and Tenant (Ground Rents) (Amendment) Act 2019 Housing (Standards for Rented Houses) Regulations 2017 COURT PROCEDURE Circuit Court Rules (Jurisdiction) 2017 District Court (Residential Tenancies) Rules 2018 District Court (Enforcement of Orders) Rules 2020 The fourth edition also analyses recent cases on many aspects of the law, including agreements for leases, notices to quit, application of European Convention on Human Rights, operation of Residential Tenancies Acts, forfeiture, repairing obligations, construction of leases, set-off against rent, new tenancy rights, Keep Open clauses, user covenants and restraint of trade, role and jurisdiction of experts, tenant insolvency and examinership, turnover rents, surrender by operation of law, ejectment proceedings, renunciations, quiet enjoyment and derogation from grant, Circuit Court jurisdiction, acquisition of the freehold and withholding consent to assignment. Wylie on Irish Landlord and Tenant Law has long been recognised as the definitive work on this area of law.
Table of Contents
Chapter 1 Development of the Law
Chapter 2 Nature of the Relation of Landlord and Tenant
Chapter 3 Other Relations
Chapter 4 Categories of Tenancy
Chapter 5 Negotiations, Contracts and Formalities
Chapter 6 Commencement, Date and Parties
Chapter 7 Recitals, Consideration and Words of Demise
Chapter 8 Parcels, Lessee's Rights and Lessor's Exceptions and Reservations
Chapter 9 Fixtures and Fittings
Chapter 10 Demise and Reddendum
Chapter 11 Rent Review
Chapter 12 Recovery of Rent
Chapter 13 Outgoings, Taxes and Charges
Chapter 14 Title and Quiet Enjoyment
Chapter 15 Repairs and Maintenance
Chapter 16 Insurance
Chapter 17 Service Charges
Chapter 18 User
Chapter 19 Alterations and Improvements
Chapter 20 Options
Chapter 21 Assignment
Chapter 22 Subletting
Chapter 23 Notice
Chapter 24 Forfeiture
Chapter 25 Surrender and Merger
Chapter 26 Expiry, Disclaimer, Enlargement, Frustration and Repudiation
Chapter 27 Ejectments
Chapter 28 Limitation of Actions
Chapter 29 Dwellings
Chapter 30 New Tenancies
Chapter 31 Reversionary Leases and Acquisition of Fee Simple
Chapter 32 Compensation
Index
Contact Us
Contact Us
LegalBooks.ie
Legal & General Shop
The Law Society Building
The Four Courts
Dublin 7
01 8725522
info@legalbooks.ie
D07 N972

VAT number: IE4814267p


Payment & Security
Your payment information is processed securely. We do not store credit card details nor have access to your credit card information.